When you journey through all of the different servers that are available to you, there will be specific servers that you really enjoy and would like to return to in the future.

Bookmarks gives you the facility to store and remember your favourite servers on your client, which means you can revisit them again in the future without having to locate them again, should you forget their details.

For this example we'll use: voice.teamspeak.com

So there is three ways to bookmark a server:

1) In the activity panel, you should see an area for servers. If you already know the details of the server that you want to join, click on the "+" symbol and a text box should appear. Enter the server details and hit enter.





Now your server has been bookmarked and should be in your list of servers.





2) If you know the server information, you can enter this in the search bar at the top left of the client and this will allow you to either store the bookmark for future usage, or you can quick connect to the server.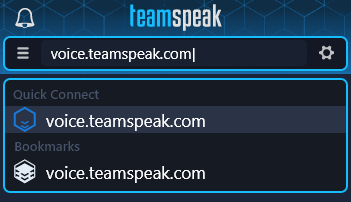 3) If you are currently in the server that you want to bookmark, click on the icon shown below. Once you have bookmarked the server, this icon should switch to blue (unless you are using an alternative theme which may show a different colour, but you should notice that it changes on clicking this).





This server should now appear on your activity centre for future usage, similar to below:




Great! So you have bookmarked the server. What else can you do?

For each individual server that you bookmark, you can then save additional details for each server. Some servers might require a password, or you may use an alternative identity for different servers and so on.

You can either do this whilst you're in a server or via your activity panel:

Within the server (right click on the server name at the top):




Or via the activity panel (right click the server name):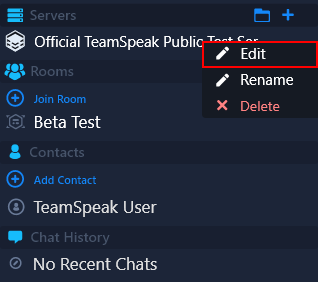 This should lead you to the below screenshot which is self explanatory in the choices that you have at your disposal: