At the moment the max resolution is 320 x 320. You can use a static image or a GIF file for your avatar.

Tip: You can also add different avatars for your different statuses. On the client, click on the

icon and select "Account". Then next to your username you should see your current (or any empty) avatar. If you hover over this, "edit avatar" should appear. Click on this.

You should now be presented with something like this: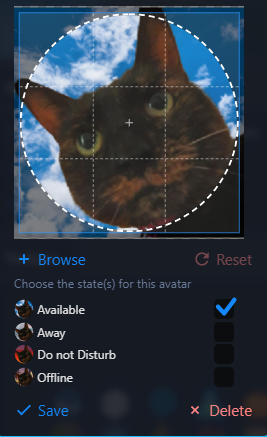 You can see from this example, that depending on if I'm available, away, do not disturb or offline, my avatar will change to that image.

All you would need to do to achieve this is each time that you want to add a new avatar to reflect a different status, make sure you tick the status/es first before you click on browse. Then once you upload your new image and set it to where you like it the best, click "save". (Repeat this for the other statuses until you're happy).