Every server at TeamSpeak has varying details in which to connect to them. These are:

1) The Domain address

2) The IP address

3) Server nickname/s

Let's use voice.teamspeak.com as an example. Within the TeamSpeak client, if you take a look at the top left of the client, you should see a "search" area where you can enter details in.





Once you've entered the desired location in. You should see three options appear:

1) Quick connect - This will literally connect you to the server.

2) Bookmarks - Bookmarking a server means you can save this server for future usage which means that you don't need to remember the exact details to re-join the server again if you become a regular of the server. (Once you have added bookmarks, you can also edit these as well which we'll cover in another article).

3) Add contact - For the purposes of servers, you don't need to use this function, however this is used for when you're adding contacts to your friends list (which we'll cover in another article).

(Quick shortcut tip: Ctrl + F will take you to the search bar as well. In your journeys you might end up with a lot of contacts, favourite servers etc so you can use this to quickly locate a specific server or contact to save you some time).

Select "Quick connect" or simply hit "Enter" and now you should be connected to the server.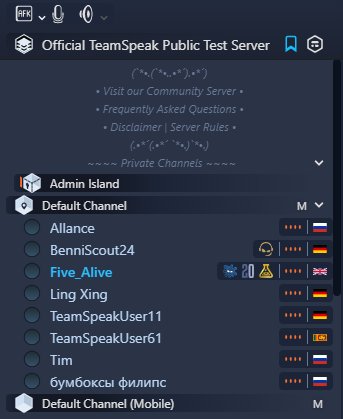 Every server has different set ups, games they play, unique interests and hobbies and plenty of new people to meet.