To add a contact you have two ways in which to do this.

Underneath the "Contacts" tab, you should see an option which says "Add Contact".





If you click on this, it should then give you an area to enter the username of the person that you want to connect with. You can either do this using their myTS username, or they might provide you with a "@myteamspeak.com" address which is essentially the same thing as it's usually their username@myteamspeak.com, just wanted to highlight this in case you come across this.

You can also use the search bar method which can be found at the top left of the client. Simply enter the details of the person that you want to connect with and then select the correct user.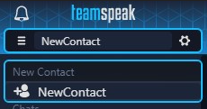 Tip: Ctrl + F will bring you to the search bar as well to save you some time.

In both scenario's, you should now see that you have successfully requested to connect with the user and it will look something like this whilst you wait for the recipient to accept your invite.





Once the user accepts the invite, now you can have a chat and can see if they are online or not. To chat with a user, return to the "Contacts" tab and simply left click on the user. This should now open up a chat environment for you and your connection.